Our stainless steel Lobe pump is suitable to work with beer primarily for bottling and filtration purposes. These types of brewing pumps are excellent for the brewer who is looking for a delicate pump that has a minimum amount of revolutions, while still providing high amounts of pressure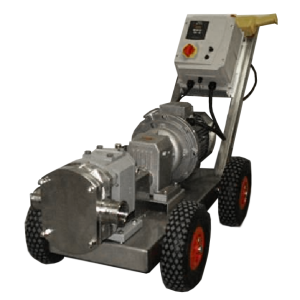 CHARACTERISTICS:
A prodeb designed pump.
Output: 31-102 gal/m (1,860-6,120 gal/h.).
Extra motorized cooling fan that will assure proper ventilation and cooling, even at a minimum speed.
Rubber airless casters
North American electronics assures easy availability of parts
TRC fittings available in three sizes: 1.5, 2 and 3
Stainless steel Lobes.
Remote unit with speed control.
ON/OFF and reverse (also from remote control)
OPTIONS:
Pump can be supplied with properly work with filling equipment.
By-pass..